Cory Wood Joins Our Staff
Cory Wood Joins Our Staff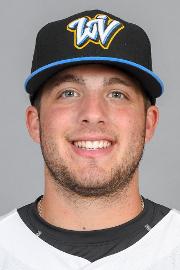 Cory Woods Joins Staff
Former Dirtbags captain, Coastal Carolina University standout and Pittsburgh Pirates prospect has now joined the Dirtbags staff.
"It's a great day to be a Dirtbag. We're thrilled to announce the hiring of our former captain Cory Wood to the Dirtbags staff. Cory was the epitome of a Dirtbags player. As a player he was hard working, uber-talented and a real student of the game. He always made everyone around him better. I'm so excited for our program and players to benefit from Cory's experiences as a player and coach. He's one of the bright young minds in baseball," stated Dirtbags owner Andy Partin.
Wood's responsibilities will be concentrated mostly around our Dirtbags 9U-14U teams and providing opportunities for all Dirtbags players to learn and grow through multiple vehicles. Wood will also assist Partin with the 14U Dirtbags.
Work with Cory Wood this Sunday during "In-Season BP". For more details on that click the link below: